Discover the New NFT Game
where each Player
earns Ether
FOREVER
Play
Follow us on
The first blockchain game where everybody wins Ether
SuperCountries rewards all players with Ether forever, even if they leave the game or have only played once, as long as the game is ongoing.
SuperCountries is a simple game where players conquer the world by trading virtual countries using a cryptocurrency called Ether.
Like in some other games, you can make a profit by selling your countries. But what sets SuperCountries apart is that you automatically qualify for lifetime Ether as soon as you enter the game!
Once you've purchased a country, you'll receive dividends, bonuses, and regular jackpots for life. There are currently 6 ways to earn Ether, with 11 new ways coming soon. For more details, please see our FAQs.
This impressive mechanic is governed automatically by a smart contract on the Ethereum Blockchain.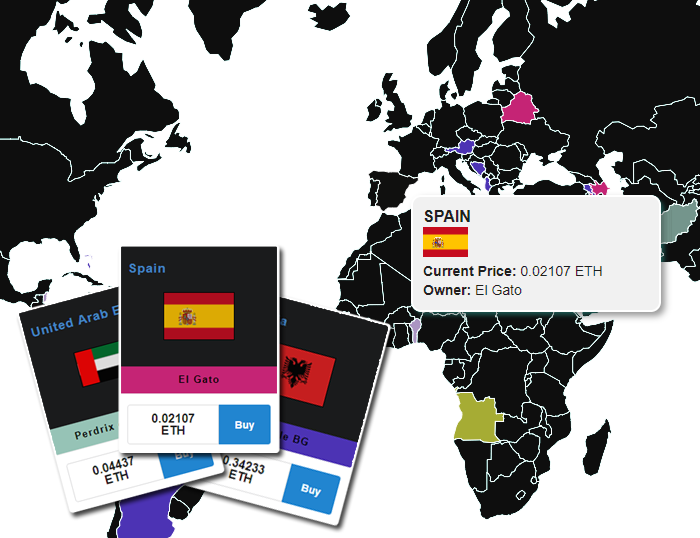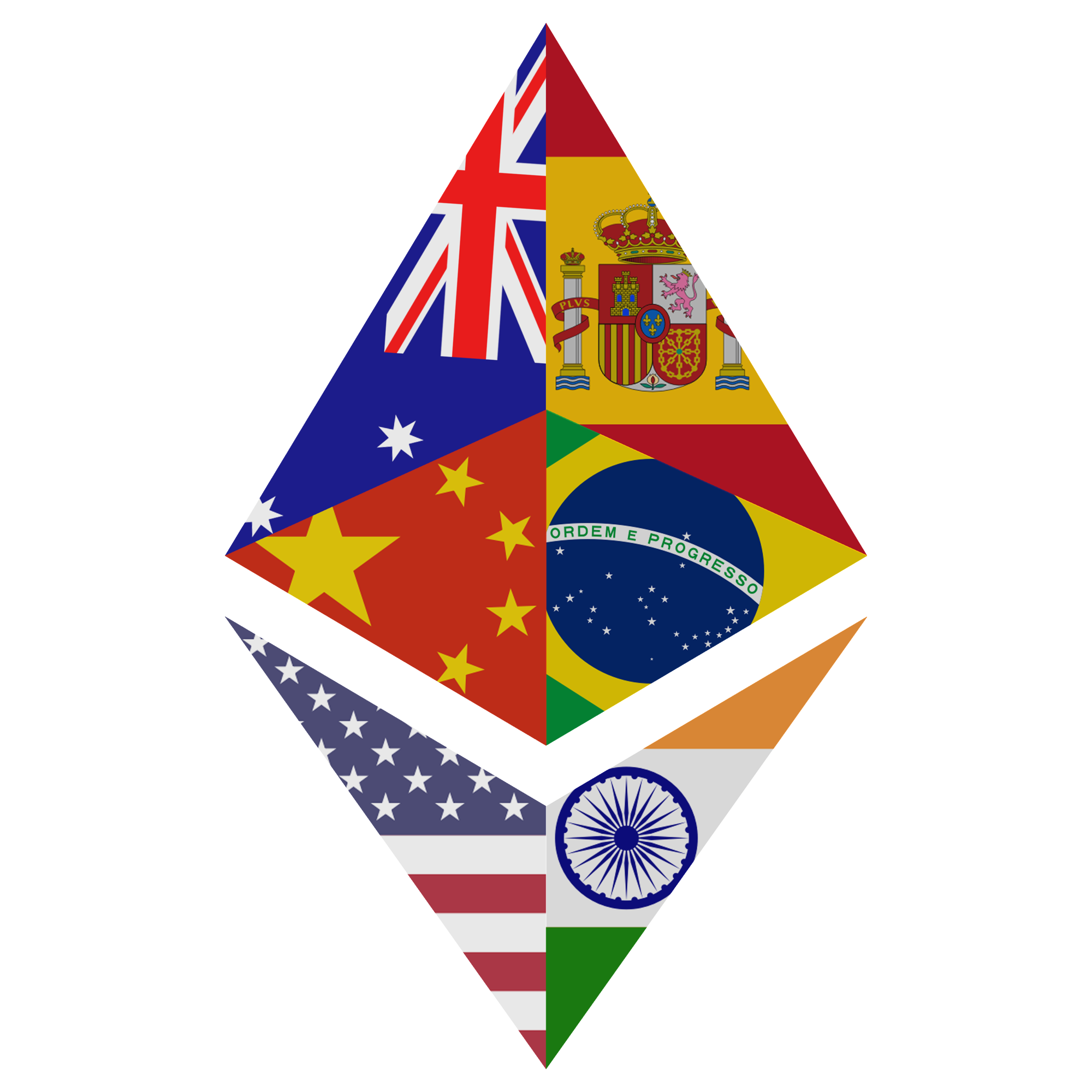 How to play?
Configuration: to play SuperCountries, you will need to install the MetaMask Browser Extension for your browser. This will allow you to execute in-browser purchases using Ether, the Ethereum Network cryptocurrency. Next, you will need to purchase Ether and transfer it to your MetaMask crypto wallet. A popular place to purchase Ether (instantly) is at Coinbase.com. See our FAQs for more details.
Gameplay: get rewards by conquering countries on the map. As told above, every player will get lifetime rewards. To become a player, all you need is to buy (or have bought) at least one country (won countries don't count). No matter the price, no matter if you sell it right after. So first, pick a country in the marketplace to be immediately qualified for eternal dividends and rewards.
Got your first country?
After every buy, the price automatically increases. If someone else wants to conquer the same country, they can take it away from you by paying up to double the price that you paid. You will then lose the ownership of that country, but you will receive your profit in Ether automatically transferred back to your crypto wallet.
From now, you are also qualified for lifetime rewards, even if you sell all your countries. You will get dividends proportionally to your current and past purchases, get bonuses when inviting friends and maybe win the regular jackpot. And of course, the more you play, the higher your rewards. Read our FAQs to learn how to increase your rewards.
Fun advertising: this game is mostly made to have fun and dominate the world with your color and your name. Use the game as an advertising space for your brand, website, youtube channel or referral links. If you own a country, you own an advertising space and a color. Your nickname, which you can modify, appears on it and if your nickname contains an url, people can click on it. Your nickname (and color) is displayed multiple times : on the map, on the list of countries and for some players on the leaderboard of the top 10 current owners and all dashboards.
Super Friendly Value increase
SuperCountries has a value increase model that's friendly to players, with some of the lowest commissions in the industry. Unlike other collectible games that take large commissions on each purchase, SuperCountries puts its players first.
Our open-sourced Smart Contract is available for anyone to review.
Super Friendly Rewards
When a country is bought, the net profit is distributed as follows:
65% goes to the seller, and the remaining amount is distributed among all players according to the table.
If a player falls into more than one category, the rewards are added up!
Roadmap
Release of initial MVP
SuperCountries goes live with a minimal UI and limited marketing with the lowest entry prices. Our awesome feature (lifetime dividends for each buyer) is available at launch. Each player who buys at least one NFT country will earn Ether dividends for each new transaction occurring in the game.
Unlock & contests
After the launch, we'll control the first settings, listen to your feedbacks and gradually unlock all NFT countries. Since the supply is limited, all countries should be unlocked before the end of summer and become more and more valuable. There will be regular contests to win the newly and last unlocked NFT countries, ETH rewards and Trophy Cards (useful on Phase #3).
SUPERCOUNTRIES WAR GAME - First additional game
SuperCountries Phase #1 was just the beginning, discover the additional game WAR and fight your countries! Win a huge war chest, earn ether by new ways and profit of the power of Trophy Cards.
2nd additional game + airdrop #1 for early players
3rd additional game + airdrop #2 for early players
Passive rewards
Once in the game, the phase 6 is actually constant and will last forever. If one day the game slows down, a jackpot is set to be won many times and revive the game. And of course, since all players get dividends forever, each new transaction on any country means dividends for all.
Start playing now, pick your favorite country
and earn Ether for life
Enter the game